RSCC Aerospace & Defense
680 Hayward St
Manchester, NH 03103
5th March, 2015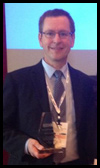 Kite and Key Award Recipient, Kevin Coderre, Further Recognized with a Distinguished Career Award by WCMA
"RSCC Aerospace and Defense is proud to again congratulate our own Technical Director, Kevin Coderre, on the recognition of his outstanding contribution to the Aerospace and Defense Industry by NEMA (National Electrical Manufacturers Association) with their prestigious 2014 Kite & Key Award." Tim Grass, President, RSCC Aerospace & Defense. The award recongnizes decades of leadership and contribution to the committee work on military, shipboard and aerospace technical standards for electrical wire and cable.
Kevin is to be further honored by the WCMA (Wire & Cable Manufacturers' Alliance) as a recipient of their 2015 Distinguished Career Award. The ceremony will take place on March 28th, 2015, in Hartford, Connecticut, at the Connecticut Convention Center.
Awarded by his peers in the wire and cable industry, it is a testament to Kevin's depth of knowledge, expertise and contribution to the industry over his 30+ year career. "Kevin Coderre and I started together at another wire and cable company in 1982. We have worked together for almost all of the 33 years since. I have watched as Kevin has developed into the finest Military and Aerospace applications and development engineer in the wire and cable industry, bar none. Besides being technically astute, Kevin is creative and responsive and is responsible for the modernization of many of the Military wire and cable specifications that exist today. More importantly, Kevin is a great family man who, along with his wife Liz, has raised a wonderful family. I am proud to have him as my colleague and to have been able to call him my friend for these many years." Dennis Chalk, President, Marmon Engineered Wire & Cable.
About RSCC Aerospace & Defense - Advancing the Science of Cable Technology
Located in Manchester, New Hampshire, RSCC Aerospace & Defense's® 100,000 square foot facility houses state-of-the-art manufacturing equipment. Our highly skilled engineering and operations professionals bring unparalleled expertise to cable manufacturing which has earned a reputation for producing aerospace and defense cable solutions that exceed the demands of mission critical applications.